Summer school 2012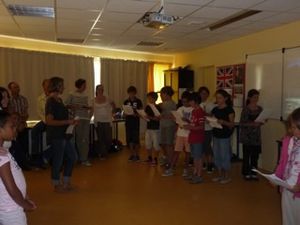 Nice work team of the Summer School this year.
Thursday 30 and Friday 31 August, were welcomed 23 children entering 6th. The team leaders: Mrs Heather Laillé, Laillé Claire, Lisa and Nickie Spendov Roussin deployed all their energy and expertise to provide children present activities that are both fun and rich learning.
Parents were expected Friday at 16:00 to attend the presentation of the work on these two days, after having sung in chorus the song of jubilee of the queen, the future 6th played small parts they themselves had written and then everyone could enjoy lesdélicieuses specialties prepared by the facilitators helped children (cucumber sandwiches, sausage rolls, flapjacks ....). Mrs. and Mrs. Verdon Chicaud gave us the pleasure of being with us. Congratulations to all for this great year!
Beau travail de l'équipe de la Summer School cette année encore.
Jeudi 30 et vendredi 31 août, ont été accueillis 23 enfants entrant en 6è. L'équipe des animatrices : Mmes Heather Laillé, Claire Laillé, Lisa Spendov et Nickie Roussin ont déployé toute leur énergie et leur savoir-faire pour offrir aux enfants présents des activités à la fois ludiques et riches d'apprentissage.