Summer school 2011
We'd like to start off the 2011-2012 school year right by sharing some photos taken during Summer School, where we welcomed 26 6th grade students on August 31st and September 1st, 2011 at Collège Grand Air.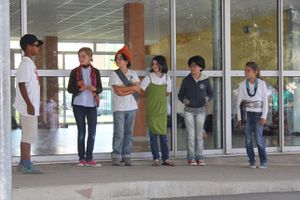 Activities ang games in English were led by four organisers, Mrs Gaborit, Mrs Spendov, Mrs Hird and Mrs Wiggins. This immersion in British culture included tasting 'Oh so British' specialties such as apple pie with custard in the school restaurant !
An afternoon tea party and a little show prepared by the students rounded off the event and were attended by Mr Legrand, Headmaster of Lycée Grand Air, Mrs Verdon, Headmistress of Collège Grand Air and Mr Riou, Treasurer.