The english library
All students from the Collège British Section can gather in the English Library which is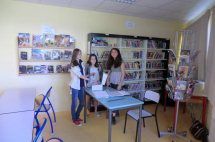 situated in Room F00 aka Mrs Chicaud's classroom. They can borrow books and DVDs in
English on Mondays and Fridays from 12.00 to 1.00 pm.
The library is staffed by volunteer parents and their schedule is put together by Mrs Delépine.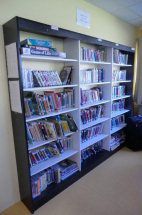 For one hour, the students can settle down with a book or play board games…in English, of course!
The library is visited steadily but it gets busier on rainy days.
All reading levels are catered to. The large book selection goes from easy picture books to Thomas
Hardy's novels and Shakespeare's plays!
Often borrowed DVDs include movies based on Charles Dickens and Jane Austen's novels as well as Roald Dahl's books, who is favoured by younger students. Harry Potter is as successful as ever.
Translated by Sylvie Wiggins
Photos Marie-Christine Cavani