All on stage
Theatre in English project 2011-2012
Since last September, 19 students from the 2nde, 1èreand Terminale classes of the British Section as well as one 2nde student who loves theatre have been working on performing a contemporary English play, under Mrs Blasco's direction.
They have been rehearsing on Wednesday afternoons from 2 to 4 pm in the High School amphitheatre and have also been able to rehearse for two whole weekends in situ at the La Baule MJC, on the very stage where both performanceswill take place. Julien GELY, actor and director, helped the students with the staging of the play.
Our Country 's Good is a play written in 1988 by Timberlake Wertenbaker.
An upcoming blog post will cover this topic at length. The action takes place in the 18th century, in Australia, where the English Royal Navy escorted convicts, future settlers of that country.
On January 25, the British Section blogger attended the rehearsal and interviewed the young actors as well as their teacher.
Right away, Mrs Blasco reminds everyone that theatre work requires concentration and attention. They are indeed focused but this afternoon is also about sharing the pleasure of acting. Six weeks away from show time, each of them has gotten into his or her character and knows how to move about the stage. Nearly all of them have mastered their lines. This particular rehearsal is about delivery, tone of voice and gestures. While one group is on stage, the rest of the students rehearse in the hallway, go over their lines or watch the actors.
How did their desire to participate in this theatre project come about?
- I've been acting for 2 years, says Pierre who is in Terminale S, last year, I played some small characters, but it's always interesting and this play is part of this year's curriculum.
Kaohsiung et Taipei , both TS students, add that they always enjoy acting and thatperforming contemporary theatre after having performed Shakespeare is simpler and it's easier to understand the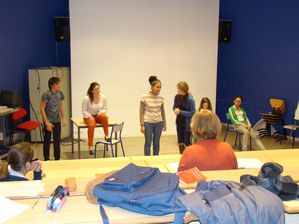 theme of the play.Kaohsiung thinks that the play can move everyone. Guillaume, also a TS student,regretted not performing last year and took the opportunity he got this year. Eugénie and Lefa from 1ere S have always wanted to perform theatre. Agathe feels the same way. The 2nde students are taking part for the first time in the preparation of an entire play but Quentin, Pauline, Agathe and Constance already performed a scene fromMacbeth at the 10thanniversary of the British Section in 2011. Finally, Émilie, who is not a British Section student, has been performing on stage since CM2, and has even been noticed by Laurent Deutsch who saw her in Mozart. What she'd like to do now is improve her English.
Which characters do they play? Did they easily get in character? How did they accomplish that?
-Mrs Blasco explains that in this play, there are 18 roles, but the playwright requested that only 9 actors perform when the play was first staged. The author also wanted each actor to play a character that would completely differ from their own identity i.e. a man would play a woman and vice versa. There are far more than 9 students in the theatre group and respecting this wish was not possible, but since this play is built on a play within a play principle, the young actors still have to play some pretty disconcerting roles.
For instance, Pauline plays Robert Sideway, a pickpocket prisoner, sweet Eugénie plays a particularly rebellious female prisoner, Lefa is THE bad guy in the play, an imposing officer who is absolutely against putting on a theatre play in the colony...
-My character, Harry, is insane, the people he killed talk through him, it's not an easy part and on top of that, he's a sailor whose language is more unusual that the other prisoners'. I worked with Mrs Blasco as well as at home, says Pierre. It's definitely not easy to play a character so different from yourself, emphasizes Eugénie, I have to focus and even watched a video on Youtube in which Vanessa Bolt goes through an angry monologue, which helped me. Pauline agrees: acting requires a lot of energy. And Guillaume who plays James Freeman, (the man named Ketch because he was forced by the other characters to become the executioner), finds this role complex, all the more so because the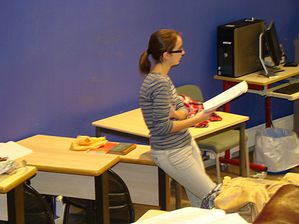 character is very concerned about how other people perceive him and has to evolve.
Lefa had to find ways to compensate for her small stature: I yell, raise my voice, I work on gestures, stand on a table...Delphine also found it difficult to play a male character. Thankfully, she got some coaching from William, Mrs Blasco's son.
Louise also plays a weird character.But some of the actresses did not find it too hard to play their respective role: Charlotte, because she plays a character with whom she agrees, Agathe and Constance because they share some personality traits with their characters. Quentin plays his character, Ralph, with pleasure but notes that 300 lines of text is a lot!
What does theatre bring to the students' lives?
-They unanimously say how much it improves their English skills, but also mention much more: It allows me to see how far I can go, says Eugénie. It gives me confidence and self assurance states Pauline, I'm having fun, I'm meeting people, I'm discovering this play, explains Lefa, and I learned a lot about theatre. Constance adds : It helps with self expression, oral expression and now, when I'm reading a book, I pay more attention to the psychology of the characters and to the way they interact. And it also brought together a dynamic group, we learn to get to know people. Agathe approves: it's great when we are all together. They all said it's great! It's fantastic!
Mrs Blasco mischievously concludes that, in this play where the characters become beginner actors learning how to perform in a theatre play, there are times when the text describes exactly what is happening for the students who are going through this experienceand when the director, herself, finds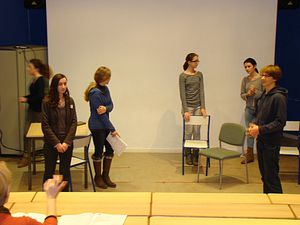 in the play the same patient comments that she makes to her young students.
There'll be more Wednesday rehearsals and even another Sunday of work on February 26. Two performances are scheduled, one for Friday March 2 and the other for Saturday March 3 at 19h30 at the La Baule MJC.
Ten students from the theatre group as well as 20 students from the British Section 1ere will be attending a performance of Macbeth on February 9.
The play is performed in English by the students of the British Section of the Lycée de Saint-Germain-en-Laye under the direction of Mrs Claire Lewis.
« This theatre group has been a source of inspiration for Grand Air ever since our first visit to their location in 2003 to see The Norman Conquests. This experience made our then students want to get started in English-speaking theatre. The 'Why can't we do that?'son the bus trip back gave birth to a theatre group, ever changing naturally, but always awed by the magic of the theatre. The renewal of a school theatre group has to take place each year, sometimes with challenges at the beginning, but the combination of the enthusiasm of the newcomers and the ease that experience brings make for an enriching experience for all participants » emphasizes Mrs Blasco.
Translated by Sylvie Wiggins