Theater Workshop
The Importance of Being Ernest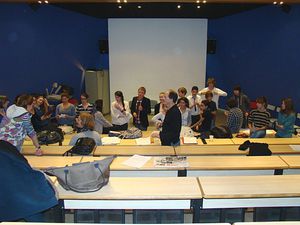 All the pupils in the 2nde international class, the 2nde 1, enjoyed a theater workshop organized by Mrs. Blasco and supervised by a professional actor, Jonathan Hayes , from the company Orca Theatre, who also gives theatre workshops for the Théâtre en Anglais company. This English-born actor, trained at Guilford Drama School has been living in France for thirty years and has performed with the troupe of the Théâtre du Soleil of Ariane Mouchkine and with Peter Brook 's actors. He also acts just as well in French as in English. He has also mastered the art of mask in the Commedia dell'arte. A link allows you to get acquainted with his company.

This course was held in the Maison des Lycéens on Tuesday 20th and in the school auditorium on Wednesday,March 21st which is our 'theatre'. It ended with a performance of scenes from The Importance of Being Ernestwhich had been worked during these two days and in the five hours of lessons the previous week where Mrs Blasco worked on pronunciation, diction and intonation and expression. The workshops focused first of all on physical warm-ups, group-building, improvisation and how to work confidently in the theatre space.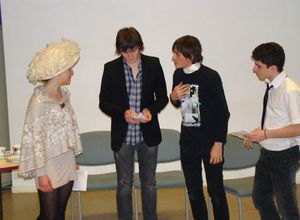 Nine students had already successfully performed in early March in the play Our Country's Good at the beginning of the month, but for most others it was a first acting experience. All embarked on the adventure with enthusiasm and curiosity. Having attended part of the course, I can testify to everyone's work, the attention of groups gathered in the 'wings', watching the actors performing and ready to respond in turn. We must congratulate them at having rising to such a challenge: They had to first master the text, quickly slip in one or even two, roles, learn to project their voice, to look at the audience, to move around the stage, to consider the presence of other actors on the set (oh, this is difficult when the temptation is to be overwhelmed by personal apprehension!). They also learned to work with the props. The Importance of Being Ernest is a comedy, the characters were played by several actors in turn. The changes took place on the stage, the transfer of props and accessories (hats, tie, jacket ...) allowed the audience to follow the thread of the story. These exchanges of costumes in full view of the audience fitted well in a plot where identity is such a central preoccupation . This added to the comedy, especially as the players stayed in character to exchange items in a carefully choreographed exchange.
The audience of about 20 enthusiastic parents and the CPE, Florence Duval arrived punctually at 6.pm to enjoy the 40 minute performance and of course applaud a great success!