Top Girls : a successful performance
Friday, February 1 and Saturday, February 2 , the theatre group from the British Section gave two performances of the play Top Girls , by Caryl Churchill at the MJC La

Baule.

With their talent, the energy of their age, all their pleasure also to act, they gave their best during the performance. And it was beautiful !

Above all , we must praise the work of these young actresses and their teacher, Ms. Blasco whose dedication and attention have been matched by the fatigue that prevented her from attending the last repetitions. We must praise the talent of William Blasco which then came to the rescue at short notice to carry out the project and has remarkably accom
plished this task .
For me, who attended, on the Friday morning , the final preparations , I can say that I experienced a moment of emotion at 14h, when the curtain rose : there was no time for a rehearsal , not even for an Italian , and actresses had not acted with their costumes.

They only had time for a quick warm-up on stage, final recommendations from William and ... lights !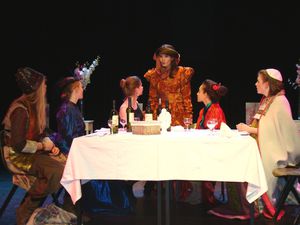 However, Top Girls is not an easy play. The cause of women is presented, with subtelties through very different characters. The action takes place in the 1980s . In the first act, Marlene (Louise Parsons, outstanding actress) ambitious young woman who has just received a promotion invites around her women of past centuries, with incredible, disrupted or even tragic destiny : Isabella (Constance Armengaud remarkable presence on stage), Lady Nijo , a concubine of the Japanese Emperor (Constance Benmessaoud -Levy , very graceful), Dull Gret, the Scandinavian warrior (Nicole Green, funny and fierce), Pope Joan who was eventually stoned (Caroline Le Queau, calm and radiant, who even learnt a whole speech in Latin !), Patient Griselda (to whom Pauline The Gal lends her delicate features). While the waitress (Marie Scotto , quiet and efficient) deals with them, each of them will tell the story of her life, as she lived it in her own time in their different patriarchal societies.
Then begins a typical day in the recruitment agency and placement work where Marlene, Win (Marie Breton, very comfortable in her role), and Nell (Agathe Pervier, who managed to compose a sharper character than Marlene) . During the interviews, they meet women seeking employment, which will help show other situations of women facing difficult choices in the late twentieth century. So comes Jeanine who would like to preserve her family life (Delphine Dubert , who can play the pathos of his character), Louise too old to have ambitions (Coline Bedel, perfect in her seriousness and shy disappointment), Mrs. Kidd, a housewife Marlene does not even listen to (Emilie Tremoureux, amazing), and young Shona (Lefa Mondon , who managed to play a role in her role and goes from anguished dejection to the most daring fantasy).


But during the day, arrived Angie (Robyn Roper -Campbell, who plays with natural authenticity), Marlene 's niece, who fled the family home and the narrow life of deep England. She passionately admires her aunt. She also left behind her the young Kit (Sarah Martinache, touching in this child role).

The last act is actually a flashback, a year earlier, when Marlene visited her family. The structure of the play is very clever. The remaining action is not centered around the Marlene's success, but her confrontation with her sister, Joyce, who is bringing up Angie alone. Joyce is played by Charlotte Slater who can give life to this courageous woman who stayed behind, stuck between housework and domestic responsablities thanks to her remarkable voice. Marlene shows a hidden fragile part of her personality and the conflicts that her success implies; " not clever , just pushy ," she says herself. The last word is Angie's, representing the next generation, who admits she's scared.
What an intricate and beautiful play !
The set was simple, minimized to allow to locate the action to take place without degrading it. The costumes were well chosen. The assistance of Ms. cottage was , as always, invaluable.

The young company has gone to La Fleche for two more public performances in the city's beautiful theatre.

The photos were taken during the performance, because of the absence of a dress rehearsal ; please forgive us for their questionable quality ! N.R