2 Trip to Plymouth
Monday the 7th, in the evening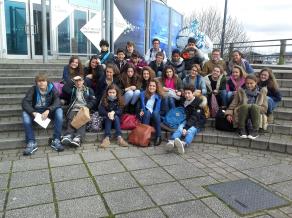 As you will no doubt have noticed in yesterdays photos , our students made friends on board the ferry so not all the children are ours, especially the young lady with the phone!
Today we had tests and lessons in the morning followed by a visit to the superb aquarium and a group photo.Alan is the only one missing, he was delayed by a ravenous shark and only just saved in time!
More adventures to follow.....
A Morin and H Chicaud