To Portsmouth
June the third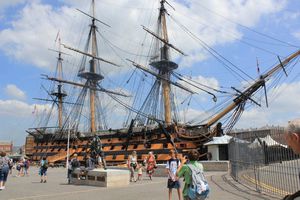 we haven't forgotten about you at all. It's just that we got really busy ! Our day started early with breakfast at the hotel. We then walked through town to the Dockyards where we spent the best part of the day visiting all of the exhibits. The weather was fantastic and we all had a great time. We had curry for dinner which the kids either liked or found « interesting »... We found time after dinner for a game of soccer in the park and rounded off our day with another long stroll back to the hotel. We are pretty sure that all of us will be sleeping soundly tonight ! 
june the forth
It's 10.30 pm and we just got back to the hotel – told you we were busy!
Today, we started off by visiting Charles Dickens's house, followed by some playtime in the park.
We had a quick lunch and went up the Spinnaker Tower. You're going to love the pictures!
The kids really enjoyed their afternoon shopping session at the foot of the Tower.
We walked over to the restaurant for a traditional English fish and chips dinner and rounded off the evening by taking the kids to the Pier for an action-packed session at the fun fair.
Tomorrow is going to be dedicated to the visit of the D-Day Museum and Southsea Castle.
The kids are looking forward to the ferry ride back to St Malo since they had such a good time on the way over…See you at Grand Air on Sunday !