Trip to London
Du 6 au 8 juin 2012, la classe de Seconde 1 est partie à Londres.
Voici quelques notes de voyage accompagnées de quelques photos empruntées aux journaux de voyage de deux élèves.
A touch of London that colours your week!
Day 1
-08h15.AM: La Baule Escoublac, train station
-Ready to invade London?
-Sir! Yes Sir! Lycée Grand Air's one and only class of 2°1 is ready to go.
-Backpacks on shoulders?
-Check!
-Passport in hand?
-Check!
-Constance 1, Jean, Coline, Constance 2, Aude, Marie, Quentin, Ophélie 1, Delphine, Martin, James, Joshua, Léopold, Pauline, Caroline, Thomas, Sarah, Tiphaine, Louise, Claire, Agathe, Ophélie 2, Robyn ?
-Check! Erwan is in mission in the US and Owain stays at the base and Charlotte awaits us in London as scout, Sir!
-08h30.AM: La Baule Escoublac, train station
The train arrives at last and the class accompanied by Miss Giraud and Sir Guerer disappears in its metal insides.
-09h24.AM: Nantes, train station
The group gets out of the train
-Hello Nantes!
-10h05.AM: Nantes, train station
After a short wait in the station, the class prepares to face the deadly 4h01 of journey by train, for destination: Lille Europe station.
-Goodbye Nantes!
Everyone battles to find a seat fitting his personal criteria such as: NEXT TO MY FRIENDS!!!!! Once all are seated, various groups formed, different activities begin. Card games (no bets of money I swear!...well, I think not...hopefully!), reading (or not?), listening to music,talking and, of course, eating our picnic. Suddenly, when half of the class is actively taking a nap (maybe not so actively in fact) after lunch (eating is veeeeery tiresome) a shadow appears, and the train conductor emerges from the dark entrails of the train! (from behind the glass door actually, but it's not fun) With a wide grin on his face, he proposes to show us his magic and requests a game of cards. Once such provided, he displays his amazing powers (his nimble fingers) in front of the bewildered students. Quickly, a friendship sets up between the wondrous man and the pupils.
-14h06.PM: Lille Europe, train station
We arrive to Lille Europe.
Note to oneself:
-We're friends with the voice of the train!!! (=our private magician)
Changing€ £, realising we have forgotten our wallet at home and we have NO money (aaaaaaaaaaaaaaaaahhhhhh!), waiting, waiting, waiting and passing through security checks for the Eurostar)
-15h34.PM: Lille Europe, train station
The Eurostar arrives, nearly everyone in the class is eating chewing-gum (thanks Quentin!!!) and here comes the War To Sit Next To My Friend (WTSNTMF) II! All claim victory as the train takes us away from France. Darkness falls, our ears begin to hurt.
-Farewell France, my beloved country!
It's pitch black outside, the lights are on inside but it is still dim.
…............................................................................................................................................................
D 2
Sorry, I am unable to fill you in with details on this part (I fell asleep).
-16h03.PM (local time) : London St Pancras station
-Hellooooooooooo LONDON!!!!!!!!!!!!!!!!
We meet up with Charlotte and arrive at our hotel after taking the underground. A band of little French devils appear at one of the windows and observe us attentively while we wait for our room keys to be given to us. I think we have astonished them with our...peculiar behaviour. We settled down and went to the refectory to eat. We discovered a new type of nuggets: filled in with a weird white sauce and herbs and were taken back in the centre of London by the underground, did some shopping, and visited Covent Garden at night. We were given an hour and a half to walk around, during which we enjoyed listening to a street singer sing love songs.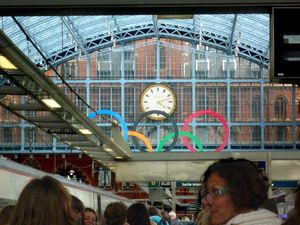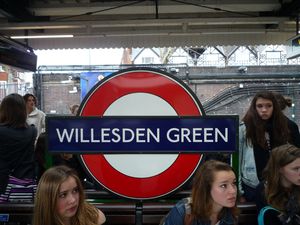 After 8 hours of journey in the train, our arrival in the train station of London St Pancras, where we were welcomed by the Olympic rings. We were 24 students of 2nde 1, accompanied by Mrs. Giraud and M. Guérer.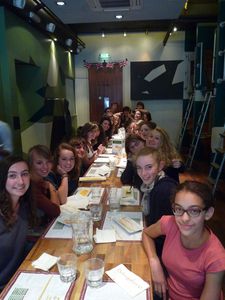 We stayed from the 6th to the 8thof June in Palmer's Lodge, near Willesdeen Green station. The boys were separated in two bedrooms of four beds and the girls in three bedrooms, two with four beds and one with ten beds !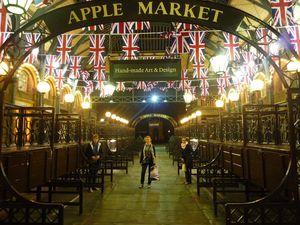 On the second and the third day, we had a pic-nic for lunch that had been prepared for us by the lodge. On the second day, in the evening, we ate in an indian restaurant, which was a great idea. The dishes were delicious but very spicy so many of us drank a lot of water !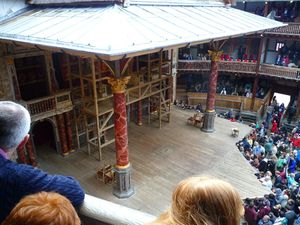 After this delicious meal, we went to the Globe to see Shakespeare's Henry V, which we had studied in class. We really enjoyed this performance which was brilliant !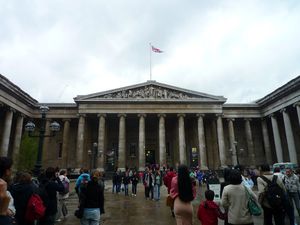 We went to the British Museum just before leaving. We all admired the Rosetta Stone and sculptures from the Partenon. Then we all chose which part of the Museum we wanted to visit. It was a very interesting visit although we didn't have time to se everything !
By Constance Armengaud et Agathe Pervier, 2nde 1